Nathulal and Bhola
A recent assignment at TRI Technologies made it possible for me to get back to my first love, BEAM. Nathulal and Bhola crawled and wiggled their way into the new world a few weeks ago. Nathulal is a walker while Bhola is a phototrophic head. Both are based on the bicore principle.
Nathulal uses a master-slave bicore arrangement to churn out appropriate walking gait patterns. A detailed explanation about such an arrangement is neatly explained on this site. A few issues related to the leg geometry still needs to be sorted out, but the overall design is functional.
(click to enlarge)
| | | |
| --- | --- | --- |
| Nathulal in the limelight | Two buddies together | Need some leg fixing here |
| Control board unplugged | The basic skeleton | Legs mounted on the shaft |
| Master-Slave Boards | Connected together with a bus | Yeah, those are the smd leds |
Schematic:

Note: Replace the resistors with presets of value 1M5 and adjust them to get the correct timings.
---

Bhola is a classic BEAM head that uses phototrophic bicore to control its movements.
| | | |
| --- | --- | --- |
| Look here buddy | Hmm.. thats better | Lost again... |
| The two photodiodes | Leds mounted on springs | The circuit is dead simple |
| Motor connections directly soldered on to the main board | The base legs were soldered to a small piece of pcb | The motor shaft was hot-glued and tied to the base pcb |
Schematic: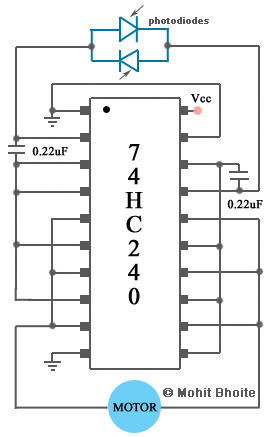 Note: The motors used in both the bots are miniature geared motors, rated at 5 Volts, 60ma, 80rpm. Bigger motors will reguire additional drivers such as the L293D chip.
Last Updated: 16 July 2006